The Greenville story of Katie Yoder
Creating tiny communities with her big heart
Our story today features Katie Yoder whose family creates + builds tiny house communities.
Wyatt recently had the chance to stay in their newest tiny house, located near the Lake Walk Tiny Community (roughly thirty minutes from Downtown Greenville). You can also experience tiny living by booking a house via their AirBnB link below.
Hurry if you are interested: the opening pricing will only last so long as fall weekend dates are filling up!
Link to AirBnB (tell them ShareGVL sent you)
Name: Katie Yoder
How long have you been in Greenville? Twenty-four years
What is your background? I grew up in a very conservative Christian home out in Vancouver, Washington in a very close family. I have four siblings, and all of us are very close and only a couple of years apart.
I met my husband Dwayne when I moved here from Vancouver, Washington, we met as our children were friends. Dwayne and I were going through similar situations and were able to connect and our friends enjoyed one another.
We have two biological children and we also adopted two children from Guatemala via an agency here in Greenville, 'Nightlight Christian Adoptions.' My daughter is twenty-four and she is currently getting her Masters in Sweden. My son is currently in his third year at Clemson.
We adopted from Guatemala, we had an abandonment case which essentially meant that it could take a while for us to adopt, close to five years. With that, we decided to go to Guatemala and take care of the babies we adopted, as you could start doing such when they turned five months old. My dad and first husband were in business at the time, we packed up everything, went to a country that we never went to. We did not speak Spanish, went down there, and spent roughly eight months until we could take our babies home.
There was a lot that happened in Guatemala, we were bribed, blackmailed, you name it. It got to the point where we were told that we could not leave our house without $15,000 because if the police stopped you, the police could essentially take your babies. The police had a big influence from the drug lords. Every time that we left the house in Guatemala, we were scared. Thankfully, nothing happened but it was a big eye opener. I came back to the United States, much more thankful than I already was for our police force.
My parents first informed me that they were going to build a tiny house roughly two years ago, in 2017. I was leary of this at first, I kept asking myself if people were going to buy these tiny houses. Sure, they are cute, you see them on TV but for me, they were too small, especially with our children.We got a lot of kicks out of it and my sister eventually put it on Instagram, showcasing the progress that we were making. HGTV found us via way of Instagram, they called and asked if they could come and film.
The trend of tiny houses is interesting, I believe that a lot of people want both more time and money to simply travel. People want hobbies, they do not want to simply live for their mortgage, they want to get out. However, at the same time, I have had some people tell me that they do not want to cook or have a backyard. When we do tours, some folks have told me that they do not want a dishwasher as it will either be paper plates or hand-washed, it is to that degree that they do not want to cook anymore.
A tiny front yard for big memories, especially during the fall season.
A view from the driveway, entering the tiny house via front porch.
I hear it time and time again: people are less-stressed, they love living here and are living a full life. The majority of folks living here are women, such women that have been either divorced, never married, widowed and so-forth. We do have bachelors and young families, but the majority of folks are middle-aged women, mainly fifty and above.
At this current time, banks do not necessarily finance tiny houses as a traditional mortgage as they are considered RVs. You have to get an RV loan, a tiny house loan or a personal loan and not everyone has the ability to obtain this, they are hard to get. A lot of people here have sold their 3,000 sq. foot houses and just paid cash as the typical tiny house is anywhere from $60,000 to $90,000.
Bathroom in the tiny house
The upstairs loft can easily distract you from work
You lease the property for $450.00 and my dad manages the whole community, this is includes all utilities: water, electric, sewer, ground maintenance and so-forth. The houses themselves can cost anywhere from $70,000 to $90,000. We can do the financing and get you started with the process.
A new fireplace that was installed as of July 22nd, 2019
Another view of the upstairs loft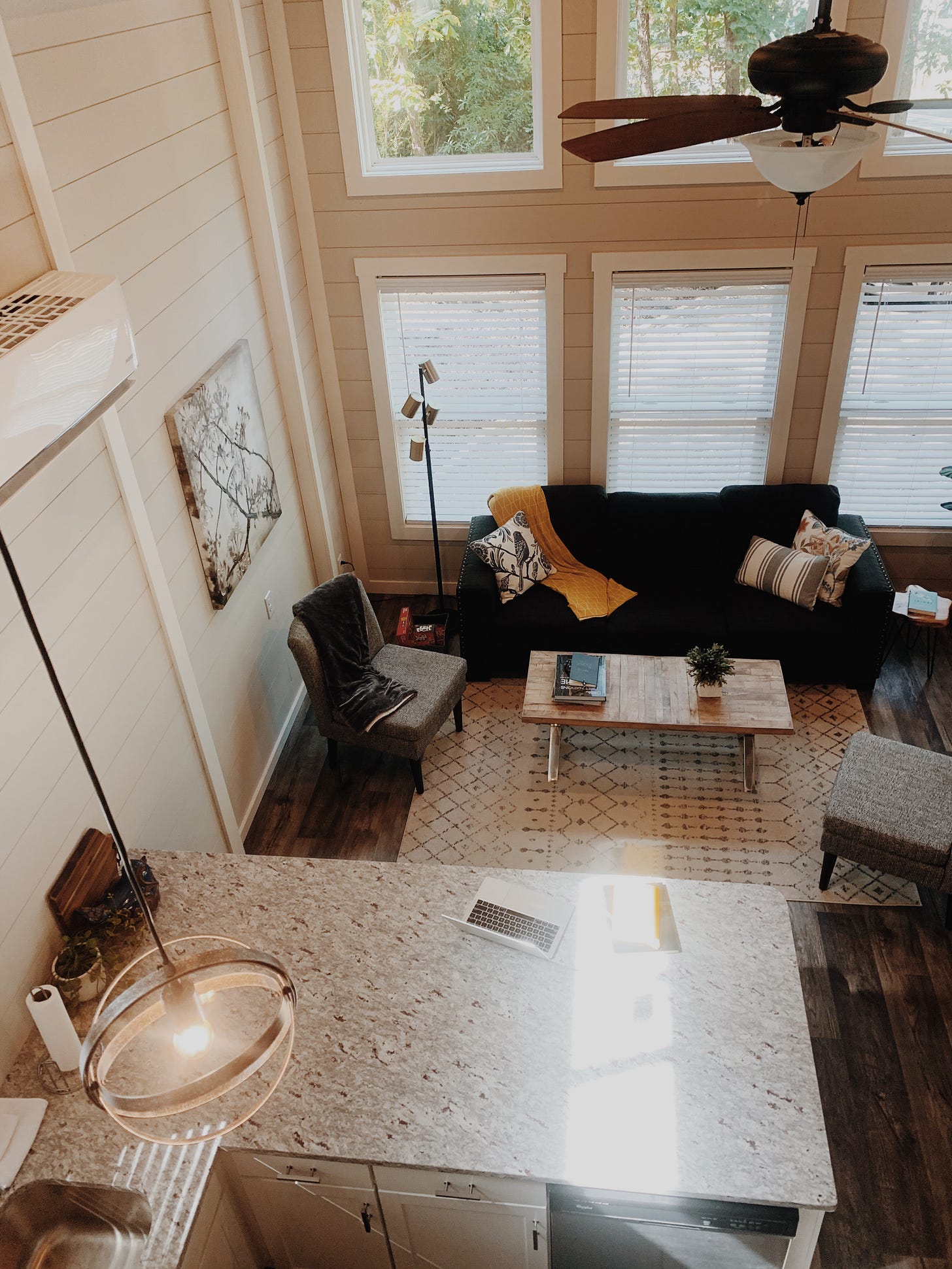 An overhanging shot of the kitchen which does include a stove, oven and dishwasher.
This particular tiny house model has higher ceilings than the others, making it very comfortable to host guests
The master bedroom, bed faces a brand new barn-door closet (not pictured).
The tiny house was, and I guess still is, my dad's hobby since retirement. He is very much, 'go, go, go.' However, the HGTV process was long and we had to wait until the next stage when they would come and film as the crew was not always onsite, they would fly in from Colorado. Everyone was excited about the whole project, expect me: all I wanted to do was deliver food and so, that is what I did. I did not want to be on TV, but everyone else did. Since our HGTV show, we have had a lot of media come in, from magazines, newspapers, television stations, you name it.
For those exploring a tiny house, we have a row of houses that you can choose to AirBnB in, stay the night and get the feel. People can also buy a tiny house within the AirBnB section and start their own AirBnB. The rest of the community, behind us [coffee shop] is private to the community, we want to ensure that everyone has privacy.
What are your hobbies? Right now I am in my transitional stage of life. Now, I like to work a lot otherwise I am spending time with my children. Before, I did a lot of mission work and adoption advocacy, this is something that I am still passionate about. Now, I am pouring myself into AirBnBs and bring awareness to the tiny house communities.
What do you do at Lake Walk tiny community? This is my first job since I was sixteen, I have been married and a stay-at-home mom since. My role here consists of, really with my family, in that of sales for Lake Walk tiny community, hospitality and overseeing our AirBnBs, which we currently have five of.
What advice would you give to someone that wants to live tiny? First, you need to decide what you want and what you do not want. You are going to live simple which means you are going to be minimalistic, see what you can really get rid of.
I would suggest, again, that you stay at one of our AirBnBs. Experience it, and see if you really like.
What are you currently reading and/or watching? I am watching a lot of documentaries. Right now, in particular, there is one on Roku about the world's most dangerous roads, it is very interesting. I am also watching one on the airline industry, going through the ins-and-outs of an airport.
What are your hobbies? We like to go kayaking, without a doubt. We really like going to Lake Jocassee. We also like hiking.
Phrase/motto: Will whatever is happening effect you in five years?
How would you describe Greenville? Very-friendly.
How would Greenville describe you? I would say pretty outgoing and friendly.
What about Greenville makes you proud? There is a lot of Christian value, which is why I like raising my children here. I really appreciate that we have stayed family-friendly.
What is the happiest moment that you have had in Greenville? When my children were born.