Forecasting his life with Faith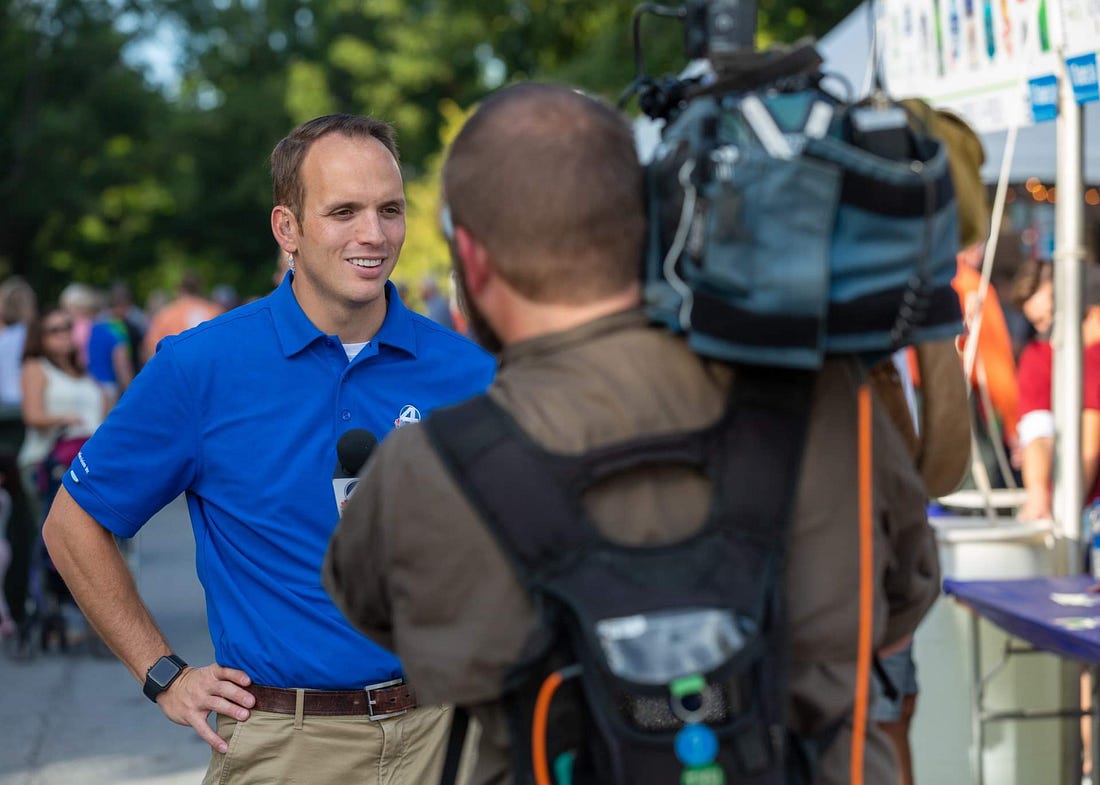 Designli made the sharing of this story possible.

Designli helps startups and businesses alike engage with their audience more effectively through the design and implementation of custom mobile software [iOS and Android Apps].

What is the most interesting fact about yourself? Everyone gets shocked when I say this, especially with my frame, but I was the left-guard for our high school football team.
How long have you been in Greenville? My family and I have been here for almost seven years, we moved here in early 2013 and Greenville is home to me.
What is your background? I grew up on an apple farm in Hendersonville, North Carolina. At a young age, I noticed how our family crops were so weather dependent. I saw how hard both my mother and father would work on the apple crops each year but would suddenly have their hard work get wiped away with one weather system. It was disheartening. That got me interested in figuring out if, and when, bad weather was going to happen. Could I maybe figure out a way that I could prevent that?
I found out that [bad weather] usually revolves around freezes or frosts in the late spring, after all the blooms are already out. But it could also mean that after a full season of harvesting apples you get one hail storm in August. That hail storm then wipes out every harvest that you've worked hard for all year.
There are some old archived tapes, somewhere, of my brother filming me doing the weather on a cardboard box where I would draw the 'Four-Day Plus' on a box and try to time out those weather patterns.
My favorite type of weather [pattern] is snow, we had a lot of it in Hendersonville [NC] and I love snow-skiing, even to this day as I have a family. I think we all remember those days of sledding in snow as a kid but I kept up with it as I went skiing in high school, college and to this day. Weather has always fascinated me, always.

Growing up [post middle-school era], I was always outside. My buddies and I were doing hikes up in Hendersonville [NC] or we were hanging out at each other's houses playing baseball or football, which allowed me [to play in high school].
I went to college at UNC-Charlotte and got a degree in Meteorology. I remember that I was about to graduate and I started sending DVDs to stations all over the Country. The majority of the stations wanted experience, so I would get a lot of rejections. I did not have experience. Honestly, I probably sent about forty DVDs to different stations, which adds up after a while, especially for a college student.

….But I got two bites [interests] in January of my Senior Year: Great Falls, Montana. I had to look this location up on a map, I knew the general direction and I also knew that it was going to be cold. And to me, Montana was looking like a reality. February came along, they wanted to fly me out, showed me the nearby apartments which were roughly $450.00 a month, and they claimed that there was good Elk hunting. All this came with a ski pass.

I said, 'hmm…a ski pass sounds good,' but the average temperatures in the winter was 15° F with snow starting in November and laying on the ground until April. The weather part of me loved it, but I realized, I would be too far away from home. I did want to accept the job, however, Savannah, Georgia called.

When it came to Savannah, Georgia, I said, 'ok, four hours roughly from the Carolinas, Savannah is a Coastal town….ok….let's do it.' And [they] actually hired me in February of my Senior Year.

So, my first job was in Savannah, Georgia. This was during my Senior Year in college, I had three months left until I graduated. The station would put me in a hotel over the weekend, I would drive down after class from Charlotte and do the weekend weather in Savannah [Georgia]. I would then drive back to Charlotte and make the commute from Charlotte to Savannah for three consecutive months.

My first full day on the job [in Savannah, Georgia], I met my wife, Lauren. She was a student at the University of Georgia at the time and was a summer sports reporter, and the rest is history. I spent two years in Savannah where Lauren grew up. I lived on Tybee Island, and had a wonderful two years.
From there, I moved to a station in Charlotte and we got engaged while we were in Charlotte but then Nashville, TN called where I would do weather there, we got married during this timeframe and then, Greenville called.
What are you reading and/or watching? Other than WYFF-4, of course….I love the Carolina Panthers and then my wife being a Georgia Graduate, we love Georgia Football.

TV show-wise, I would say Homeland on Showtime. I am fascinated by the whole CIA/Presidential actions, that kind of action.
Hobbies: Snow-skiing in the winter, Lake Hartwell in the summer.

Phrase: Faith in Jesus. It is a big part of our lives, I want to raise my kids with that Faith. My personal belief is that we are here to serve others, not others serving us.

Even in my job, from a meteorologist standpoint, from helping people plan their picnic to severe weather events and helping folks keep their family safe; we are all here to serve.
It is in-depth for me: I am not here to be on TV, I am here to help people. How can I serve people? I don't want to be served, I want to serve.
Who do you work for?WYFF4/Hearst Television

What is your title and day-to-day? Right now, it is Meteorologist. However, commencing just before Thanksgiving 2019, I will be Chief Meteorologist when John [Cessarich] retires.

My day starts when I wake up, glance at the radar and computer models and get my two boys, Mason and Parker out to day school. I

I am on campus at WYFF4 at 2:00pm until midnight but have breaks in-between. We at WYFF4 have the early afternoon shows running from: 4:00pm, 5:00pm and 6:00pm.

After the 6:00pm news, I go home, eat dinner with my family, I get the boys down and then I do the 11:00pm news.

How would you describe Greenville? First and foremost, it is home. Growing up in Hendersonville, it was one of those places that you would come and visit to have fun. Now that I work here, and now that I live here, I can honestly say that this is the perfect place to raise a family.

You have a melting pot of cultures, a mixture of people, you get to learn from all of them. You also have so much to do, from every age on up.
How would Greenville describe you? 'The Weather Guy.'

When I came to WYFF4 from Nashville, no one in the country really had much of a weather presence on social media. I was able to break ground in our market by broadcasting severe weather events live on TV and on Facebook.

I grew from a dozen followers on my page my first day on the job at WYFF-4 to now over 100,000. Now it's a commitment of mine to be everywhere people are today.

That includes our WYFF4 App, Facebook, Twitter and Instagram in addition to TV. I will make sure that you do not miss our forecast here at WYFF4. In Greenville, people are on the go and stay busy.

What is your happiest Greenville moment? When my two sons were born, without a doubt.

What about Greenville makes you proud? The people here, they are so friendly. I feel like Greenville has a soul, it has character. It grows. Greenville embraces people and that's why people are flocking here.

Favorite Greenville morning hangout? A coffee shop in Greer, Taylors, Wade Hampton Area.

Favorite Greenville evening hangout? You can find my family and me in Travelers Rest, the Swamp Rabbit or Downtown Greenville near Falls Park.
Do you represent or own a brand? We'd appreciate any consideration into sponsoring a ShareGVL story. For $100 a story, your brand receives publicity amongst this newsletter, our website (ShareGVL.org) and all of our social media channels (@ShareGVL). Sponsors are crucial and allow for both ShareGVL and the storyteller to share their story, free.