The Greenville Story of: John Greene
A protector, family man and businessman.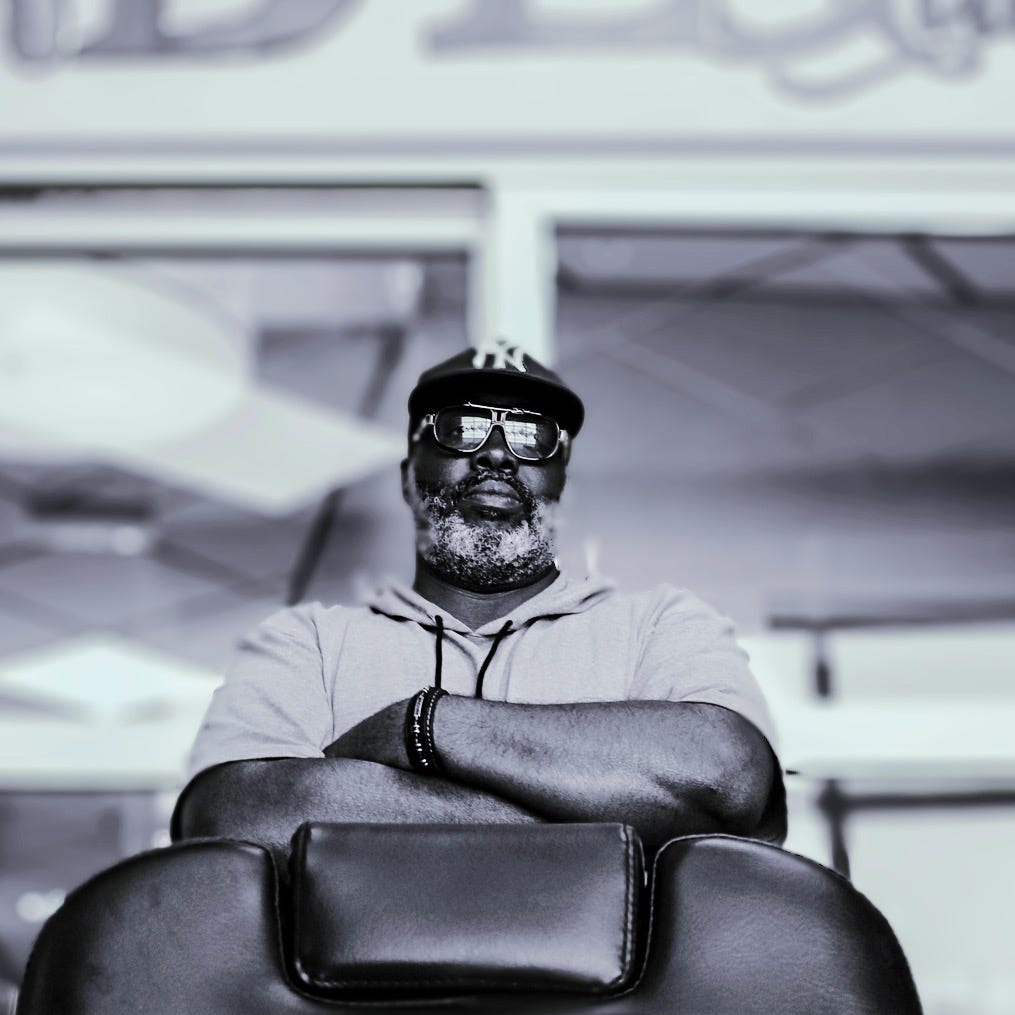 Picture by: Wyatt Edward Stephens

Story sponsored by: Georgia Boots

'I am a simple guy, I don't have too many shoes. But the shoes that I do I have, I wear them out. But I can't seem to wear Georgia Boots out, if anything, they become more comfortable. I wear my boots to client meetings, night-outs and even with my Guardian work in the courtroom. They have numerous styles (classic, ranch, causal, work and logger) and are perfect for the man (and numerous events) in your life'
-Wyatt of Share Greenville, a storytelling community in South Carolina
Name: John Greene
How long have you been in the Greenville area? I have been here, in Greenville, for all of my life. I was born and raised here. 
What is the most interesting fact about yourself? I started cutting hair at the age of eleven. 
What is your background? Like I said, I grew up here in Greenville. I went to Sarah Collins Elementary School, Beck Middle and then Southside High School. 
Growing up in Greenville, it was a lot of fun. There are so many different sides now, different views of Greenville: the Eastside, Westside, Southside and so-forth. But back when I was growing up, there was really no 'side' as you could just mingle amongst everyone. 
I am a family-man, everyone in our house was close growing up. My mother and grandparents were the ones that raised us, myself and my two siblings: I was the oldest of a brother and a sister. My mother was a working mother, she worked hard at Union Carbide and I became the protector of the house. To this day [Wyatt of ShareGVL], I still am the protective one, the protector of my sister. I feel like I am much older and need to be the protector. I guess it is a big brother type of thing. 
My house was the hangout spot in high school, everyone would come to my house. All of my friends would come over, have dinner and then stay the night because my mother was the watcher of our neighborhood, she knew everyone and everyone knew her. People looked up to her as well. 
I got a lot of practice [cutting hair] from the people in the neighborhood as I would cut their hair. I remember the first time I got paid, I was twelve years old, it was wild. I charged $10, and at the age of twelve, that is huge. And then, I turned thirteen. That summer, man that was neat. My mother and I had so many people in our house trying to get hair cuts that the police would drive up and down the street trying to figure out what was going on. 
One day, a police officer came to our house and knocked on the door. My mother came to it, and the police officer asked her what was going on. The police officer said, 'I want to come inside because I need to see what is going on. There has been a lot of traffic at this house lately.' I noticed my mother and him talking in the background so I told the police officer to come upstairs. There, he saw that I was giving haircuts. He looked at me and said, 'you do a really good job, kid.' Within a week or so, that police officer came to my house. But this time he wanted a haircut and he became a customer. 
After high school, I tried the whole college thing out, I ended up going to Denmark Technical College (Denmark, South Carolina). But then I decided that, since I had been cutting hair for so long, to just come back home here to Greenville and cut hair, make money for my family and I. 
All of my aunts and uncles cut hair in Delaware which is how I was introduced to this industry. My family would go to Delaware in the summer and I got to hang out in the barber shops with my uncles and watch them cut hair. I was fascinated as I watched their customers come in, my uncle(s) would cut their hair for say, fifteen or twenty minutes, and make money. I thought it was the coolest thing that they were making money by cutting hair. I knew that I could do it and told them I wanted to. So, they sent me off with a pair of clippers towards the end of the summer and the rest is history. 
What are your hobbies? Golf and being a student of the barber game. 
What are you reading and/or watching? I know it is not a book, but lately I have been reading the stock market. I am also watching Chicago MD and Chicago PD. And obviously, I watch a lot of YouTube videos on cutting hair. 
What is a phrase that you try to live by? If I do not work, she don't eat. 
Where is your favorite Greenville morning hangout? In the carpool lane with my daughter or Tommy's Snack Bar in Mauldin. 
Where is your favorite Greenville evening hangout? Volleyball practice. My daughter plays volleyball and I love going to practice. After practice, we go to QT and then Moe's, then home. It is a traditional Daddy-Daughter date, I won't miss it.
How would you describe Greenville? Greenville is growing and people are bringing different vibes to it, that is nice. There are nice people here, it is home and comforting. 
How would Greenville describe you? A hell of a barber. 
How does Greenville make you proud? The atmosphere. There is a lot going on in the world and I can probably say that we do not have that in Greenville. And if we do, I haven't seen it. And I have been in Greenville for a long time. 
What is the happiest moment that you have had in Greenville? When I graduated from high school and the birth of my children. I gave you two moments. 
ShareGVL note: Mr. Greene can be found locally in Greenville at Fade Studio, off of Woodruff Road. Fade Studio is located next to the Starbucks, one closest to Trader Joes, Zoes and Academy Sports. You can contact Fade Studio at:
1130B Woodruff Road, Greenville SC 29607
864-724-9573