A creative story of community and advocacy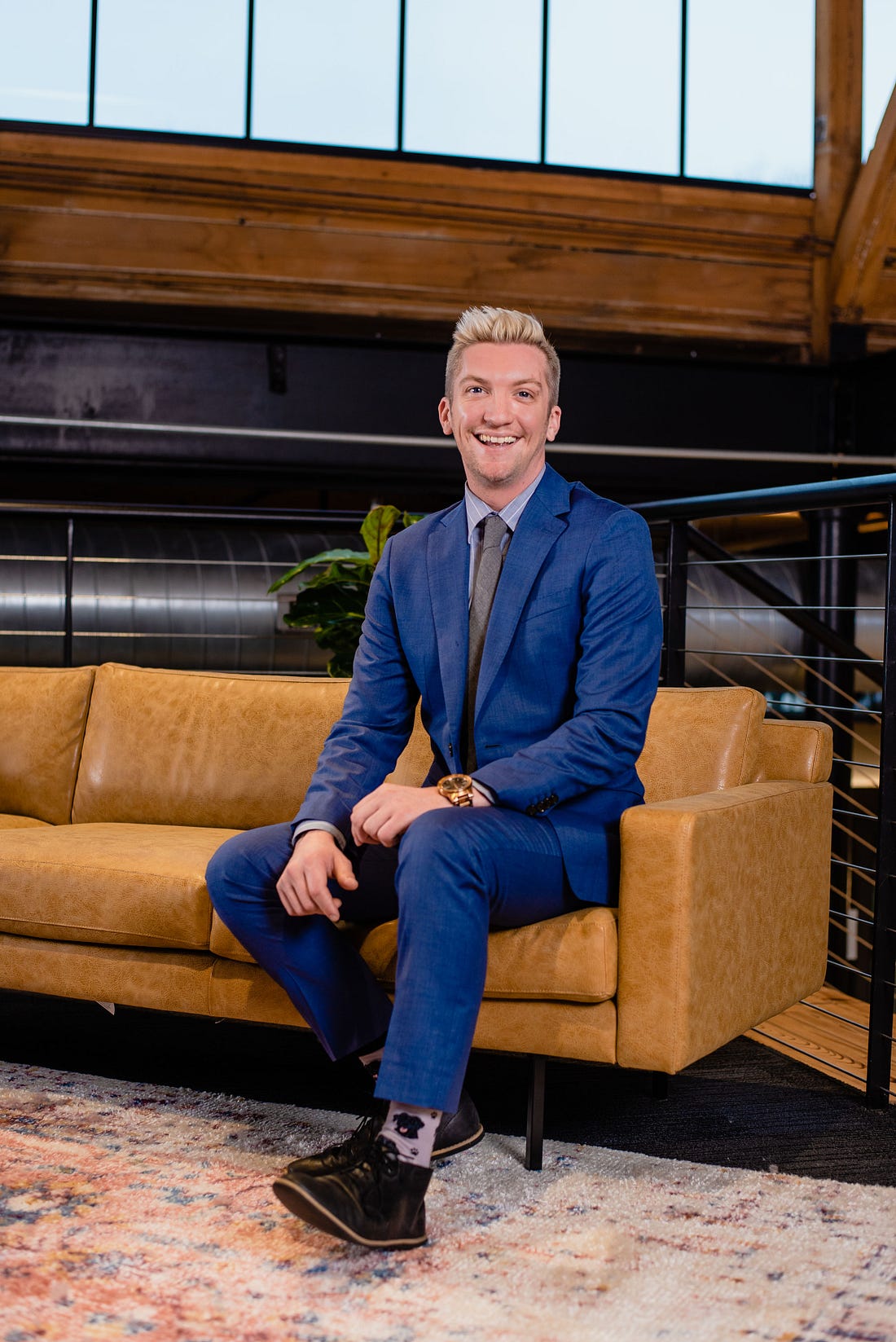 Photo: Chelsey Ashford (@cmaphoto)
What would you say is the most interesting fact about yourself?
I have a lot of energy and confidence that came at a cost, a cost to not become an act. In middle school, and a little in high school, I built a wall because I did not want to be approached. I did not want to open up with others. But I started to remove the filters of the bullies and lean into the reality of who I am.
How long have you been in the Greenville area?
I was born here in the Upstate, growing up in Easley.
What is your story? What people should know if you wrote an autobiography?
I went to Getty's Middle School and two years at Easley High School, they were five very hard years of my life. A lot of emotional bullying. My mom actually prohibited me from going to church [specific church I was at] she knew that I was going to come out at some point, as most mothers know. And in knowing that, she wanted me to live an authentic life and not be swayed differently. She found after-school programs, organizations, clubs, essentially anything that did not have to be religious. At the time, that was hard to find in Easley.
I didn't have a lot. But I had acting and that is where I focused all of my energy, the energy others would divide and spend on sports, social, personal, you name it. You blend all that energy spent into one, that is the energy that I put into acting.
I realized my freshman year in high school that I would have to find my way out. I found out about the Governor's School here in downtown, which was only about two or three years old at that time. Nobody really knew much about the program or school itself during those stages, not really my guidance counselors. My family and I hunted the right people down, went on tours and I showed my passion for wanting to go to the Governor's School. We educated ourselves, I applied and auditioned during my sophomore year in both creative writing and theatre, becoming the first person to be accepted into both disciplines, choosing theatre out of the two.
Recently, I spoke at the Governor's School for their 2019 graduation. My topic was essentially what you do when you do not activate or use the art and skills that the Governor's School taught you, applying them to the real world. It took me a moment to warm up to the idea to be at the Governor's School again. I had felt as if, for so many years, that I somehow failed the Governor's School. I did not live the professional career I went to the Governor's School for.
However, Anna King, Head of Alumni, who is an incredible woman and friend, reached out and saw our community activism, network and opened her eyes, changing the perception of what success at the Governor School looks like through my own story. I am very grateful for this.
After the Governor's School, I moved to Westchester County, about forty-five minutes above Manhattan, went to school there for one year. I had not foreseen anything like New York, I was hungry. I was ready for my script, for acting, for everything. Little did I know, within the first three or four months, I had already completed what they were teaching: I completed the curriculum I was paying for, the curriculum I got free at the Governor's School. Not only am I doing this curriculum again, I am now paying an arm and a leg in New York.
I worked at an Express Store, as a Part-Time Manager, but I had the worst attitude, I was trying to make ends-meet while taking 24 hours a semester, not a year. New York provided me with the selfish opportunity to have hard skin because everyone was rude and I became someone that I did not want to be. Luckily, I caught it. The same day I found out that I did not want to go back to school, I moved to Williamsburg, Brooklyn. It was sketchy as hell at the time. It rocked me to my core, I knew that I was not going to be an actor like I wanted to be, the reason I went to the Governor's School, the reason I spent all that energy.
After I moved to Williamsburg, I started to work for Jean-Georges Vongerichten at one of his restaurants on Perry Street [West Village, Manhattan], and I met someone that could have changed my life professionally. She was beautiful, she was pregnant and we started to get to know one another while I was working. She asked if I had ever thought about going in public relations and all I could think about was Samantha from Sex and the City. I said, 'yes, this sounds great.' I had no idea what I was doing, nothing. But she had a job for me, and unknown until I showed up, it was New York Fashion Week. It was a seed inside of me that had never received sun or water, and then in that moment, that seed exploded and blossomed. I remember after New York Fashion Week, I'll never forget it, they [company working for] indicated and expressed that they could not have had pulled their events at New York Fashion Week off without me. Wether true or not, I do not know, but it set up a pathway. It was the first time, other than acting, that I was given that level of validation. I knew what I wanted to do and I am doing it.
I worked with Bravo, Food Network, HGTV, McDonalds, JCPenney, big brands. And then 2008 happened, which wasn't the best year when your minimum PR retainer was $25,000, with almost double of that being spent per month. Nobody had control, we all wanted to stay together but they let a lot of people go and I was one of them. That Christmas was a Christmas of tears in Greenville. I came back to New York with just a lease, but still knew that I wanted to be in PR which led to Los Angeles.
Why don't I scale what I had been doing for multi-million dollar companies to that of small businesses?
I was still living in New York, created a website called BodagaDelivery.com which was then bought by Delivery.com because, as a publicist, I got it into numerous outlets, including the back of cabs. I sold my business, traveled and decided that I wanted to try living in Los Angeles where I quickly found out that you are either an East or West Coaster, I was East Coast. At this point, I was twenty-seven and wanted to get back because I was not happy. At this point, I had lived for ten years, either living in one or two of the biggest cities in the world.
About a year-ish ago, I decided to create my own public relations firm, MyPRLab
If you are currently reading and/or watching something, what would that be?
Anything Bravo or anything under The Real Housewives franchises. I want to watch TV that I do not have to pay attention to because when I get home, I want to do something mindless.
I am seeing someone right now and we are watching the Handmaids Tale but, ahh: there is too much to pay attention to. Deep subjects. Economics, social issues. No, I want to see a drunk botox face throw a glass of wine at another botox face.
I am reading Michelle Obama's, 'Becoming.'
What are your hobby(s)?
My hobbies are anything for my small business. It is my reality, there are so many worlds of the small business ownerships that you can do.
My dog, Harlem, is important so we can include hanging out with Harlem.
What is the phrase that you live by?
Are you living with integrity?
My mom asks me this, she knows how to [zing] you. She can get me focused, not get too emotional with my decision-making. It helps everyone and my talent.
If you work, who do you work for?
I work for integrity as the CEO of My PR Lab.
What is your day-to-day at work? If unemployed or retired, what is your day-to-day throughout Greenville?
I'll never know my day-to-day.
How would you describe Greenville?
I joke but I like to think, in the same amount of time I grew up, Greenville did too. From the ages of 19 - 31, Greenville has grown up at the same rate. We have to recognize our past and be optimistic, and only optimistic moving forward.
How would Greenville describe David Hawkins?
Frighteningly fabulous.
Where is your favorite Greenville morning hangout?
On my front porch.
How about your evening hangout?
Anything with good wine and oyster, aka, Jianna.
What about Greenville makes you proud, likely the reasons you are still here?
I am proud because we are here so quickly. I am surprised about the popularity of movements like LGBTQ+. We received coverage of the Pride Community, the Black Communities, both communities received front page headlines last week alone. What is even more important, each of these respective communities have parties and gatherings that anyone and everyone can come to.
What is your happiest Greenville moment?
The first night I organized a movement. I remember coming home, it was about 2:15 in the morning, and I remember laying in my bed for about forty minutes. Completely Gobsmacked, trying to reply that night in my mind. Everything. It was amazing, I couldn't sleep.
David has organized Greenville's fourth Pride Movement for tonight, starting at 8:00pm. Tickets and further information can be found below:
https://www.eventbrite.com/e/movement-at-zen-an-effen-pride-party-tickets-63124096873?
Enjoyed this story? Then you'll love our website, ShareGVL.org. Be sure to subscribe to our newsletter and follow us on Instagram, @ShareGVL.
Want to be featured? Submit your story, free at ShareGVL.org/submit