Discover more from ShareGVL's Newsletter
Sharing Greenville, South Carolina. One individual at a time.
Over 1,000 subscribers
The Greenville Story of: Charles Warren
A businessman with awareness both on and off the golf course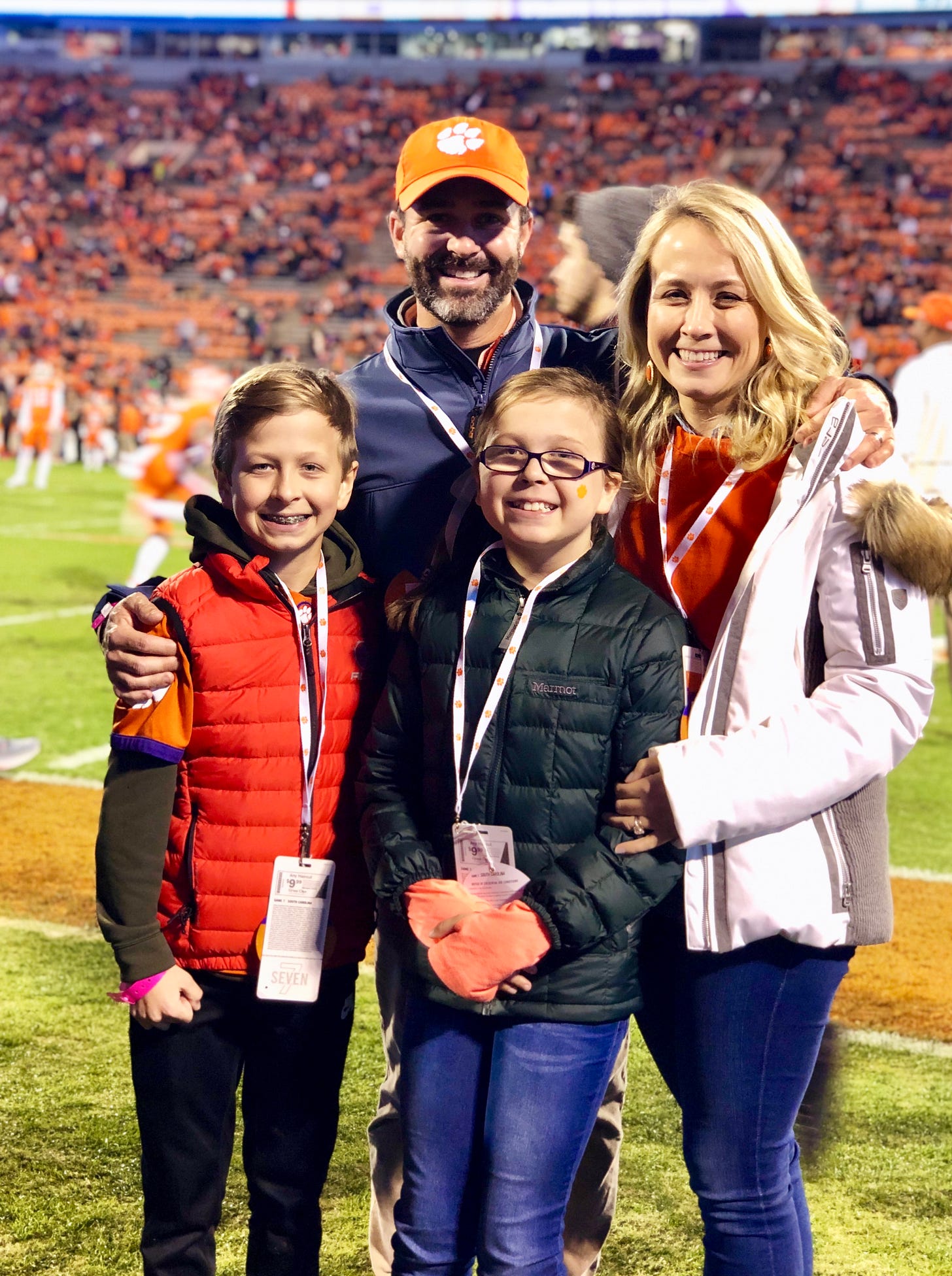 Charles Warren, wife Kelly and children Charlie and Riley at a Clemson Football Game. Photo courtesy of the Warren Family.
How long have you been in Greenville? I graduated Clemson in 1998 and I have been in Greenville ever since.
Most interesting fact about yourself: I played golf on the PGA Tour and Web.com Tours for roughly fifteen years, until 2012. I won the NCAA Championship as an individual during my junior year at Clemson, in 1997.
What is your background? Golf has been a big part of my life. I grew up playing junior [youth] golf and then had a chance to play at Clemson. I grew up a Gamecock fan, my Dad was a cheerleader there but when you have the opportunity to play golf at Clemson, you take it.
I went to Clemson as an average recruit, I wasn't a heavily recruited junior golfer. The last two years at Clemson turned out to be really good for my game and at that point, I decided to go play professionally. I had the blessing of playing on the PGA TOUR for eight years and then seven years on what is now the Web.com Tour.
My wife, Kelly and I met at Clemson in 1995 at a Carolina-Clemson game by some friends within the golf circle, folks from Aiken. We have two children that are twelve and nine, Charlie and Riley. It is very fulfilling [being a father], it is what you live for. It puts the meaning of life into a new perspective. You go from being married to having a team, it adds another good dimension which is very rewarding. We have lived [near Downtown] since 2009, about ten years now.
Hobbies: I like to hunt and fish, specifically, I like to fly fish and duck hunt. Any kind of fly fishing, I love the outdoors. I wouldn't consider golf a hobby, even though I do like to play still. Hunting and fishing are my preferred hobbies.
Phrase and motto: Be intentional and be aware. When I work with our sales team, I try to be very intentional and be aware of my surroundings. Obviously, as a father, I try to put emphasis on this with Charlie and Riley. I believe that if you are intentional then you will be a lot better off as a business person, parent and overall person.
Who do you work for? I work for Arthur J. Gallagher, a risk-management firm based in Chicago. We are Fortune 500 company with a local presence here in Greenville [off of South Main].
What is your title and day-to-day? Area Vice President. My day-to-day consists of building our portfolio, customer platform which are mainly middle market to larger businesses located in Greenville and throughout the Southeast on their commercial insurance needs.
How would you describe Greenville? I would say growing but I'd also add in proud. I believe everyone is proud of Greenville that lives here.
How would Greenville describe Charles Warren? Transitioning. Golf defined me for a good majority of my life, until the age of 38. After golf, I wanted to do something within our business community and choose the relationships that I made through golf within the business realm. After golf, within six-months, I had the blessing of landing a great role with a great company and culture.
What about Greenville makes you proud? It is home, it has a mixed-city feel. You go downtown, faces all over but you run into folks that you know. People love Greenville, that is something that is great about our city.
Where is your favorite Greenville morning hangout spot? I am working out in the mornings at the Greenville Country Club, at the gym. Other than that, breakfast spot, Soby's on the Side.
Where is your favorite Greenville evening hangout spot? At the pool in the summer, and Soby's would also be on my evening hangout list as well.
Enjoyed this story? Then you'll love our website, ShareGVL.org. Be sure to subscribe and follow us on Instagram, @ShareGVL.
Want to be featured? Submit your story, free at ShareGVL.org/submit